Whether it's software, an inventory management system, human resources or the back office - we keep GRASS in motion. The IT and administration teams play a central role in the company, linking data and information and connecting us with our international customers. Digital and personal.
We are the gateway inside and out.
Everything links together in IT and administration: We are the centre of the GRASS network. This applies equally to digitisation, human resources and customer service. What unites us is the aspiration not only to meet expectations, but to exceed them. We work together proactively and purposefully in this endeavour. Day in, day out.
Along with our IT experts, who ensure smooth and reliable processes, our customer service team in particular plays an essential role in GRASS brand perception through all of their outstanding, customer-oriented services. After all, customers are our focus, and we make sure they feel that way every time they're in touch.
To stay on course, we are constantly looking for experts to serve our customers with particular dedication. If you enjoy contact with people, have a strong passion for our brand and the ability not only to meet but to exceed expectations, then GRASS is the place for you. In our customer service team, you can give fresh impetus every day and further build our brand's strength.
"We focus on individual freedom and opportunities – sometimes we even make the impossible possible for our customers."
Sabrina Moosbrugger
Order Processing
Digitisation and automation are the game changers of our time. Our goal therefore is to develop GRASS into a "digital enterprise" that combines the real world with the digital one. We want to use the huge amount of data generated on the Industrial Internet of Things to make efficient use of our limited resources and to make industrial manufacturing more sustainable.
Tom Kaspar
Head of Department, IT Infrastructure
"Whether in person at a colleague's desk,

remotely or by phone. I enjoy the versatile and

challenging tasks

in my area."
Lukas Fischer
System Engineer Client Workplace
---
"As an IT Service Desk Agent,

I am the first point of contact for any department

when it comes to IT issues. I am motivated to resolve

the majority of queries on first contact and

to ensure that production

keeps on running."
Do you think ahead, like working in a team and love what you do? Then let's shape the future together!

We need people like you to achieve our ambitious goals and to continue being successful in the future.

Particularly in IT and administration, we rely on experts who will lead GRASS into the future.
"Interaction with external visitors

and colleagues makes my work

varied and exciting."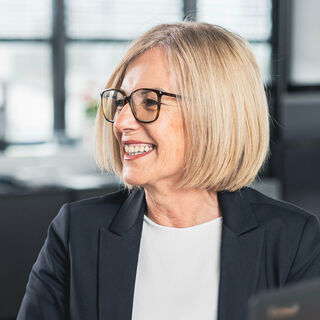 Just what you're looking for?

Apply to us.
Implementation of the full recruitment process, consulting activities in all HR-related issues and matters of employment law.
Advice and handling of national and international legal matters with a focus on company, contract, corporate and real estate law.
From the enquiry and preparation of a quote to verification of payment receipt and, if necessary, subsequent support.
Responsible for the support and further development of the ERP system proAlpha.
IT Application Management
Ensuring efficient and effective IT operation of various application software packages.
The GRASS Group is a globally successful business, a traditional yet fresh brand with an impressive variety of perspectives.