Discover the drawer of a new era
Thinner
Better
Sturdier
Thinner
than ever.
The world's first 8 millimetres. One-piece steel drawer side. Breathtakingly beautiful. Monolithic - designed for eternity. Uniquely individual - just like you.
This is Vionaro V8.
---
"Good design is as little

design as possible."
---
---
---
Say hello to a drawer that is unique
in every way.
German Design

Award Winner.
The Vionaro V8 offers sustainable efficiency and process benefits at all levels.
One-piece

solid metal drawer side.
It delivers maximum stability and durability while ensuring a recycling rate of almost 100%.
Sustainable is the new normal.
The 8 mm steel drawer has long been the first true innovation and guarantees our customers a significant competitive edge.
The slimmest

steel drawer

side ever.
At just 8 mm thick, GRASS is turning this vision into a reality.
The less space occupied by hardware, the more that remains for storage.
High-tech made

in Austria.
High-quality movement systems manufactured in Austria.
Colours redefined. Revolutionary effect powder coatings with new high-tech surfaces for greater climate protection. 3 standard colours and 3 special colours.
Sustainable surfaces for the drawer of tomorrow.
Colours and surfaces play a special role in the perception of our drawer systems. They have a significant influence on their effect, trigger emotions and associations that lead to unconscious reactions. Each individual coating must do justice to this special significance of colours and surfaces. We are well aware of this. In addition to the proven, high-quality standard surfaces, we also offer innovative effect surfaces for Vionaro V8, which pick up on current home trends. Warm colours, fine textures, matt shine - with GRASS special colours, design principles can be continued into the interior of the furniture while in particular also offering an unprecedented, tactile quality. Touching these surfaces is a sensation you won't forget. From metallic shimmering platinum to warm cocoa – the unique high-tech surfaces make the world look a little more colourful and open up new options in furniture design. But not just that. The V8 colour range also sets new standards from an ecological point of view. By using environmentally friendly high-performance powders and energy-saving low-temperature technology, each individual drawer ensures greater sustainability. It goes without saying that all GRASS surfaces also fulfil a protective function, that they are hard-wearing, scratch-proof and resilient to household chemicals.
Steel has

never looked

so good.
Do you have to be able to customise a timelessly beautiful drawer system like Vionaro V8? You don't have to. But you can.
Whether inlay, sheathing or aluminium cover - the

various V8 upgrades can be conveniently added at any

time. For the designer, this means maximum design

freedom. For the brand, maximum differentiation.
Instead of glass, you can of course use other design elements in the V8 Crystal drawer side. Wood, aluminium or ceramic, imprinted or not imprinted – with the right inlay, V8 drawers can be perfectly adapted to any style of furniture.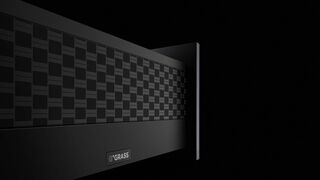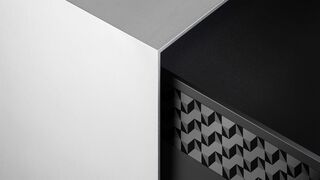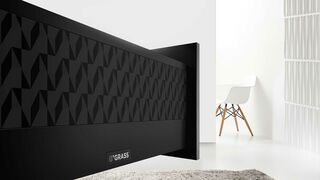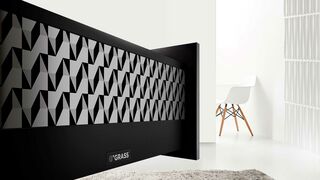 A completely new and particularly interesting way to make a V8 drawer distinctive is to cover it with a sheathing element. The resulting horizontal division of the V8 drawer sides opens up unprecedented options for customisation. Anything is possible: Two colours, a new material mix, contrasts or individual imprints. The design covers are laid over the railing in a form-fitting way and are anchored in the profile of the drawer side.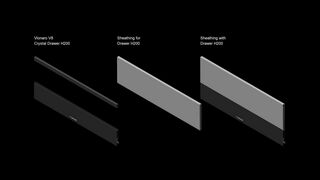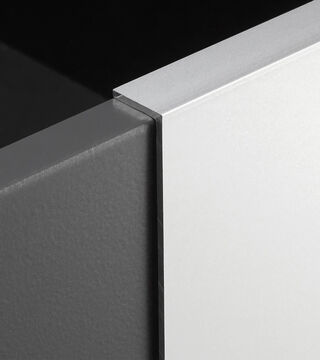 Completely new and unique colour and material combinations can be achieved with the elegant cover elements made of aluminium across all drawer side heights.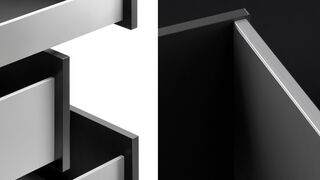 5 drawer side heights and a glass drawer. From cooker plinth drawer H72 for limited installation heights to the classic H89, intermediate height H121 and high drawer H200 through to H250 for particularly high closure requirements - Vionaro V8 is as versatile as our customers' furniture.
For inset drawer H200 Crystal Front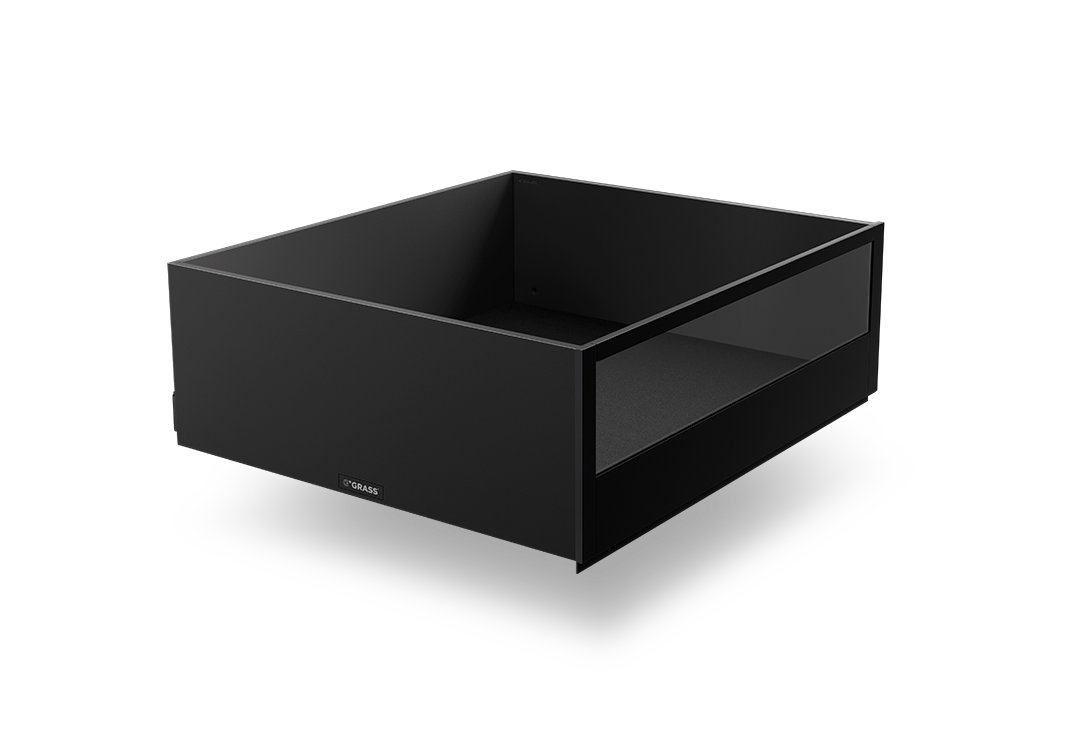 For inset drawer H200 Crystal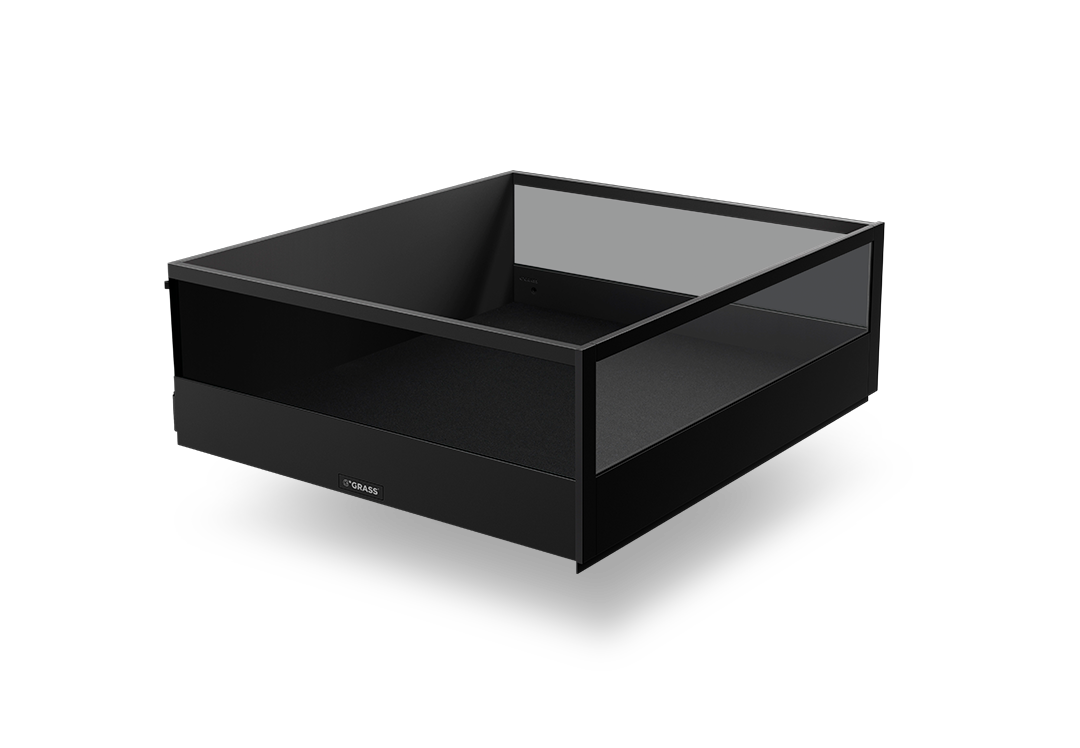 A unique

drawer platform.
All versions at a glance.
Tavinea.

The perfect

interior for V8.
---
Crystal clear.

But I have

a question.