---
Weightless treasure chest.
Modernity and exoticism are perpetual references in Giorgio Armani's creations, composed of subtle textures, masterful craftsmanship and a sense of weightlessness.
The Midnight bar cabinet attests to this most aptly: Designed as a "treasure chest", this exceptional bar cabinet combines the characteristic aesthetics of the ARMANI / Dada collection with the highest functionality to become a central element of the living space.
ARMANI / Dada is a brand created in 2008 from the coming together of fashion giant Giorgio Armani and one of the best brands in Italian design, the Molteni & Co. group. Design and comfort, function and elegance. These are the guiding principles in the development of the ARMANI / Dada collection to express the perfection and excellence of the Armani style in the kitchen. Giorgio Armani's vision of the home as a private retreat that can be refined yet comfortable is now reflected too in the home's work space. The kitchen is interpreted as an extremely practical work space that also appeals to the senses and is able to convey emotions and atmosphere, just like the living area and the bedroom.
Since the start of the brand cooperation more than 10 years ago, ARMANI / Dada has been moved by GRASS. A fact that we are proud of. And Midnight is yet another outstanding example of the perfect symbiosis of design and function.
---
The "Midnight" masterpiece reflects the unique design style of Giorgio Armani and combines it with original technical solutions.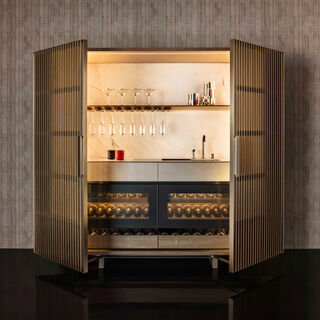 The simple, Japanese-inspired design of the bronze-coloured aluminium doors playfully interacts with vertical rod inserts in anigre and a satined aluminium surface in champagne. They were designed to allow a view into the interior and - by means of a patented mechanism - to open with a simple and natural movement. The opening movement appears almost majestic. The doors swing to the side - without taking up additional space.
When opened, the fully illuminated interior walls show their full effect and invite you to discover the lovingly designed details. The real stars of the unit are the exquisite worktop and drawer fronts made of Rosa Portogallo marble. The fact that this masterpiece of furniture design is equipped with our Vionaro V13 drawer system also rounds off the design with a functional touch. The timeless elegance of the V13 aluminium drawer side, manufactured exclusively for ARMANI and Dada, blends in symbiotically.
Elegance doesn't mean catching the eye, but remaining in the memory.
---
---
Mini kitchen or bar cabinet. Or both. Midnight can be used in a variety of ways and can be ordered in different versions.