---
The vertical as a stabiliser.
The systemat product line is synonymous with very high-quality, elegant kitchens with a wide range of equipment, fabulous extras and exclusive comfort. Best example: The new AV 6023 GL. From the first glance, it is the vertically grooved wooden fronts in particular that give the kitchen an almost linear character.
Yet the "AV 6023" has much more to offer. The entire architecture of the kitchen is modern-minimalist, linear and highly elegant. Not only does the vertical line structure function as a design element – it has something of a balancing effect. As a result, AV 6023 kitchens can be perfectly integrated into any room concept and their presence in that space will be unforgettable.
---
---
Häcker Küchen is a company with a long history, having been founded as a carpenter's shop in 1898 by Hermann Häcker and carried on into the next generation by Friedrich Häcker. The foundation stone for today's economic success was laid by his son-in-law Horst Finkemeier and his wife Renate in 1965, through the series production of kitchen furniture. As an owner-managed family company, HÄCKER produces fitted kitchens with a high standard of quality and a focus on function, design and technology. HÄCKER Küchen is synonymous with reliability, fairness, commitment and sustainable business. With around 1,800 employees, the second-largest German kitchen manufacturer is developing innovative solutions for tomorrow's kitchens. The customer has always been the central focus. Enthusiasm and attention to detail are key to distinguishing HÄCKER kitchens from the global market. With the product lines concept130 and systemat as well as the brands Blaupunkt and hltech for built-in kitchen appliances, HÄCKER offers a comprehensive product portfolio in various price segments.
For more than 20 years, HÄCKER kitchens have been moved by GRASS. And with Vionaro V8, our long-standing successful partnership is entering its next decade.
---
AV 6023 and Vionaro V8 demonstrate just how well a kitchen design and movement system can work together.
The unique combination of avant-garde design, natural materials, first-class workmanship and innovative technology makes the character of "AV 6023" truly inspiring. Behind the striking fronts made of real wood veneer in a grooved design, Vionaro V8 guarantees perfect movement. The Slim Drawer System, just 8 millimetres thin, carries over the minimalist design language of the AV 6023 kitchen to the drawer inner. It is no coincidence that the delicate linear structure of the wooden fronts also has an 8 millimetre grid pattern. It's as if AV 6023 and the V8 drawer were made for each other.
By dispensing with the superfluous, the V8 drawer gains breathtaking simplicity. Its clear, monolithic form will outlast time and trends. In this respect, Vionaro V8 has everything a design classic should offer. Not just because of its slender design. But also because of it. Vionaro V8 offers graceful movement design, perfect solidity and maximum storage space utilization. And: V8 is the world's first and only recyclable steel drawer. Choosing a AV 6023 kitchen therefore can mean making a contribution to climate protection. All HÄCKER kitchens are climate neutral in their production.
Everything fits together perfectly.

A designer kitchen with a linear aesthetic,

natural materials and a

sustainably minimalist drawer.

This is HÄCKER moved by GRASS.
Michael Dittberner
Head of Product Development and Product Management
HÄCKER Küchen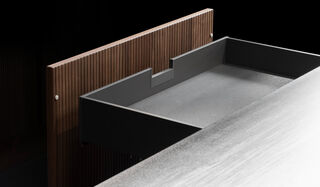 ---
Vertical structures are perpendicular to the floor and ceiling of the space. They keep things together. They calm and stabilise.