---
The "UN17 Village" development project is a kind of open laboratory in which sustainable solutions in the real estate industry are researched, developed and implemented.
A sustainable residential area is emerging.
What is currently being developed on the southern outskirts of Copenhagen is unique in the world. A home for more than 800 people. What is special about this is that its implementation and future operation are based on the 17 United Nations Sustainable Development Goals.
Accordingly, the requirements facing the companies and suppliers involved are high. In relation to the construction and equipping of the apartments. The fact that all 536 kitchens in the "UN17 Village" come from our client ROTPUNKT Küchen attests to sustainable practices and serves as a distinction on the international stage.
---
What was founded in 1930 as a cigar box factory by Heinrich Rabe and Wilhelm Meyer under the name "Rabe & Meyer" is today an international manufacturer of kitchen and household furniture in the premium segment. ROTPUNKT Küchen is growing, not least thanks to trade relations around the world. Driven by a passion to produce kitchens that enthral, ROTPUNKT Küchen has been developing continuously for over nine decades. Versatile, high-quality, durable and sustainable - these are the characteristics of the kitchens, dressing rooms and utility rooms produced by ROTPUNKT Küchen, manufactured in Germany.
Continued business growth is expected to continue in the future, including investments in machinery, advanced technologies and the expansion of national and international dealer relationships. In addition, the expansion of the headquarters in Bünde, eastern Westphalia, is already under way.
ROTPUNKT Küchen have been moved by GRASS for more than ten years.
For ROTPUNKT Küchen, participating in the "UN17 Village" flagship project is more than just a customary property contract. The project itself is the result of a consistent sustainability strategy that focuses equally on ecological, business and social aspects, while also focusing on housing health. This comprehensive understanding of sustainability was the prerequisite for even being considered as a kitchen outfitter for the residential development in the Danish capital.
The 17 sustainability goals of the United Nations go far beyond individual aspects of environmental protection, the circular economy and reducing the CO2 footprint. Among several European applicants from the circle of kitchen furniture manufacturers, ROTPUNKT Küchen was able to produce documented evidence of lived practice for all relevant aspects. One reason for this is that the 536 kitchens are equipped with a recyclable drawer system. Nova Pro Scala offers pure steel frames without plastic elements. This ensures a nearly 100% recycling rate.
Responsible sustainability combines very well with function and design. Thanks to Nova Pro Scala,

we can continue this principle behind the furniture fronts too.
Andreas Wagner
Managing Partner
ROTPUNKT Küchen GmbH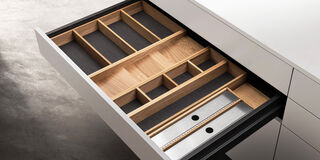 ---
---
We all have a responsibility towards our environment and our fellow human beings. That is why the 17 UN goals play a special role at ROTPUNKT Küchen. Our understanding of sustainability is aimed at the global climate, the climate in our company and the indoor climate in our customers' homes.
Which means: We produce our kitchens in a climate-friendly way and use sustainable materials - from the front to the drawer system.